Tiffany Miller

Tiffany Miller was born in Cambridge, Ontario and now lives in Kitchener where she soon discovered her passion for painting.  Her abstracted landscapes are inspired by her travels to Western Canada, Southwestern US, Mexico, and various islands in the tropics.  Also influenced greatly by the change of seasons and the effect they have on moods and emotions, she explores the similar effects in the colours and textures in her expressive compositions.
Read more
As a self-taught artist, Tiffany discovered her style by experimenting with texture and attempting different techniques using any tools possible. Paint is often sculpted or scraped off the canvas in strategic or sometimes sporadic directions resulting in various abstracted landscapes.
"I'm fascinated by our Earth's vast and diverse structure. A contrast of strong and fragile nature. To me, it resembles differences in personalities and state of mind from time to time. Creating horizon lines reflects my need for balance, organization, and level-headedness. While something with more movement, like the power of unexpected currents found in bodies of water, explains my need for change and whimsy."
To add a piece from artist Tiffany Miller to your personal collection contact us today!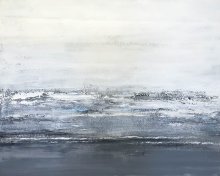 48" x 60" acrylic (gallery wrap)
60" x 48" acrylic (gallery wrap)