Marie-France Boisvert

A native of Saguenay-Lac St-Jean, Marie-France Boisvert has more than twenty years of artistic experience in painting and sculpture. 
Boisvert first obtained, in 1997, a first BAC in Graphic Communication at Laval University in Quebec, then, in 2004, a second BIA in Sculpture at the University of Chicoutimi. Finally, it was in 2008 that she finished her academic training with a Masters in Creation at the same university in Quebec.
Read more
Marie-France Boisvert's work reflects her current state of mind, her feelings and emotions, and expresses her own interpretations of the changing face of this world.
Through her mediums, the artist journeys towards a destination that she may not know but that she recognizes when she arrives there. Anonymous characters, children's games, synaesthesias of animal figures, Boisvert draws inspiration from metaphor to describe how people interact with each other and with their environment. In his work, the artist stages an analogy between the ephemeral and suspended time, between perception and emotion, placing the viewer as the witness of symbolic moments.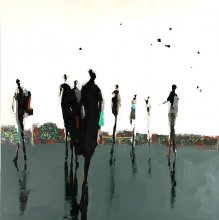 36" x 36" acrylic (gallery wrap)
40" x 40" acrylic (gallery wrap)