Sébastien Larochelle
Born in Hull, Quebec in 1974, Sébastien Larochelle grew up in Rouyn-Noranda, Quebec and now lives in Montreal.
Read more
From an early age, his passion and his aptitude for drawing were noticed. At college level, he studied visual arts at the Abitibi-Témiscamingue Cegep. He then went on to pursue his art studies at the University of Quebec in Montreal.
The works by Larochelle are already turning heads for many reasons: firstly for his audacious use of new and traditional iconographies. Secondly, for the remarkable presence of drawings rendered with great dexterity; his lines and contours are steady and controlled. According to Larochelle, they are the stepping-stones of his artistic approach and expression.
Larochelle fills the space of his canvas with alert and free-spirited horses, drawn and painted with quick, spontaneous and energized movements. Through his highly personalized "dripping" technique, Sébastien Larochelle seemingly brings the animal to life, portraying its strength and elegance. The energy conveyed in his works is truly gripping. For Larochelle, the horse—humankind's admired companion, represented in various ways since prehistory—has the power to free the imagination; he therefore recreates paintings, in the style of the cave art of our ancestors. He has successfully developed a unique signature style, which is immediately recognizable.
With a touch of humour, great ease, and obvious pleasure, Sébastien Larochelle creates works that do not leave the observer indifferent.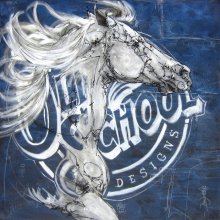 48" x 48" mixed media (gallery wrap)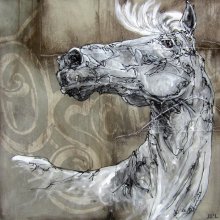 40" x 40" Mixed Media (gallery wrap)