Heather Haynes
Heather Haynes is a well known Canadian artist who has been painting professionally for over 20 years. From the very beginning of her career Heather has been active in supporting local and national causes with her art donations.  Her Tree Series brought her international recognition starting in 2005, when this work was brought into galleries across North America and in the U.K.
Read more
Since 2008 Heather has been traveling consistently to Africa - specifically Uganda, Tanzania and Democratic Republic of Congo. In Moshi, Tanzania, Heather co-founded The Pamoja Tunaweza Boys and Girls Club. This club provides a safe haven for local at-risk youth to obtain life and employment skills, and to prepare themselves to be assets in their community and beyond. The club is primarily run by former street kids turned local leaders.
In DR Congo, Heather has spearheaded a community empowerment project. This includes the Tchukudu Kids Home, a home for orphans, complete with a security wall, sanitary latrine and water collection system. She has also secured North American sponsorships nearly 100 orphaned children. The project also includes an agricultural venture that provides food for the children, with the excess being sold for income to help cover expenses. Recently, part of the project included the construction of a school that will educate the children and other local kids, and provide jobs for local teachers.
In 2009 Heather launched her African inspired Worlds Collide series on Parliament Hill, Ottawa, in the chamber of The Speaker of the House. In 2012 Heather opened her own gallery in Kingston, ON with a portrait show, Women of East Africa, from which she donated proceeds back to help enable the women she depicted. In 2014 she presented a portion of Wall of Courage, consisting of 80 portraits of orphans in the Democratic Republic of Congo. In 2016 the installation debuted in its entirety at Shenkman Arts Centre in Ottawa in July 2016. Wall of Courage, a 40 ft long by 12 ft high monolith, has also shown in Grand Rapids, Michigan as part of ArtPrize in September 2016, at PeaceQuest on November 11 in Kingston, ON, and a public display at the Isabel Bader Centre, Queens University, in November 2016. Also in 2016, Heather relocated her gallery to Gananoque, Ontario.
In recognition for her selfless efforts for the past 20 years, Heather was awarded the Paul Harris Fellowship Award from Rotary International in November 2014. The award acknowledges "service above self" which the individual has offered to their community, their nation or to the world.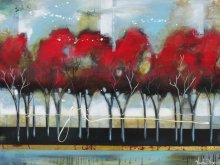 30" x 40" mixed media (gallery wrap)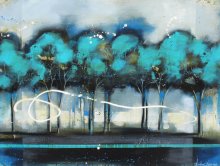 30" x 40" mixed media (gallery wrap)