Plein Air Event & Exhibition with Andrew Kiss, Branko Marjanovic, Neil Patterson & Neil Swanson - Saturday September 14th, 2019 until September 20th, 2019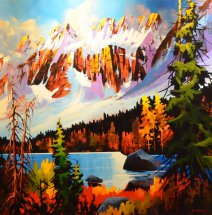 "Plein Air" is back!
Opens the 14th - artists in attendance
Leaves are turning colour, and the artists are itching to get into the Invermere area and paint everything in sight…on canvas.  They have been on location the past few days preparing for the 'freshest" show of the year.  Watch the Artym website for details of location and times to join the group.