Min Ma Exhibition - Saturday July 20th, 2019 until July 26th, 2019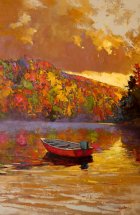 Min Ma solo show opens July 20
Min ma in attendance for his "favourite show".
Start, or add to your Ma collection now.  Incredible paintings ranging in size from "mini-Mas" up  to large 40" x 60" canvas depicting landscapes from across Canada and China.  A must attend event!