Angela Morgan Exhibition at Panorama- Saturday March 16th, 2019 until March 21st, 2019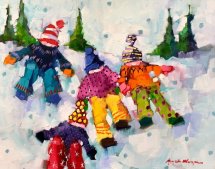 Angela Morgan's show will take place at our Panorama location on Saturday March 16th, 10 - 5:30; with Angela in attendance 3 - 5:30.
Show will feature whimsical winter paintings and a sneak peek of her spring series.
Show continues until March 21st.